Hello, everyone!
Thank you for visiting the Mihoko Goto Homepage.
♫♫♫♫♫♫♫♫ ♫♫♫♫♫♫♫♫ ♫♫♫♫♫♫♫
Great news!
I now have its own radio program.
Check it out here.↓
http://palau-links.com/palau-new/radio-2-8-ten.html
  ♪♪♪♪♪♪♪♪♪♪♪♪♪♪♪♪♪♪♪♪♪♪♪♪♪♪♪♪♪♪♪♪♪♪♪♪♪♪♪♪♪♪♪♪♪♪♪♪♪♪♪♪♪♪♪
~~Mihoko Goto Biography~~
Mihoko Goto is one of the leading accordionists in Japan, whose unique sound and performing style is highly praised both at home and abroad.
Mihoko started playing the piano at the age of five, and at age ten, she took up the accordion.
After graduating from Osaka College of Music, majoring in piano, she began her music teaching career at an elementary school while continuing her studies in contemporary music.
Twelve years later, she left her teaching career and visited U.K. and Hong Kong for further musical education. Collaboration with composers and accordionists of U.K. and Hong Kong inspired her to embark on her career as an accordionist back in Japan.
Mihoko was fortunate to have additional chance to study accordion abroad.
She received guidance from Nick Ariondo of Los Angeles in 1997, and later in 1999, coaching from Viacheslav Semionov in Moscow Russia.
In 2001, she held her first major recital in Osaka.
From 2002 to 2004, after moving to Tokyo, her main musical career as an accordionist was with "TENGO", a Roma music unit.
Together they appeared on TV and radio, held concerts around the country while releasing three albums consecutively from Victor Entertainment, Inc.
In 2003, they served as a friendship and exchange artist for Russia's St.Petersburg 300th anniversary city founding event.
Mihoko released her solo album "accordionist" in 2010, five years after started playing solo.
She performed as an accordionist in Broadway shows in NYC in2013.
She also performed in Germany and Russia in 2014 and 2015.
She participated in the Kaustinen Folk Music Festival in 2016 and 2017.
Mihoko is actively touring Japan yearly.
She is an artist with inclination towards classical and east European and Roma music. At the same time, she adheres to and cherishes her own identity, which brings her affection and appreciation towards Japanese traditional music.
Audience will be intrigued by Mihoko's presentation of accordion music – a new genre of collaboration of Japanese and European music on a traditional European instrument.
♪♪♪  music video  ♪♪♪
2018,Jul,14
Performing "Senbon-zakura"(means 1000 cherry blossoms, arranged by Mihoko Goto) in Kaustinen Folk Music Festival in Finland.
Music unit "HIBIKI" ~~~HIBIKI NEWS~~
We, HIBIKI are going to St. Pertersburg in Russia from the 21st to 26th this October to participate in the Terem Crossover International Music Competition.
We applied for the competiton and were accepted in the first round by a video recording at the end of this July.
The second and the third rounds will be held in St.Pertersburg.
Now, we are a preparing our arrangements and rehearsing some sets of music for round two and three.
We will all do our best.
Please wish us luck!
Aki Ozawa (guitar)
Takehiro Kurihara (tsugaru-jamisen, guitar)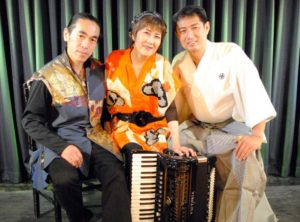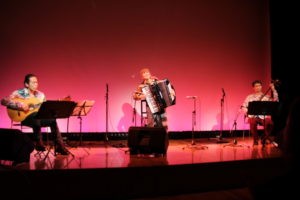 HIBIKI is Japanese which means "resonance" in English.
We have a large repertoire such as Japanese traditional music, classical music, flamenco, rock, Russian music, world music, and so on.
We live in Tokyo.  We've all played many concerts all over Japan for 10 years.
Our performance is here:
Performed at BX hall in Bunka Shutter Co.,Ltd.in Tokyo on the 27th. of Apr. 2018.
Mihoko Goto arranged "Toccata" by Bach, and composed " Pegasus".
Performed at BX hall in Bunka Shutter Co.,Ltd.in Tokyo on the 27th. of Apr. 2018. Mihoko Goto arranged  "Wearied Sun " which is a Russian old tango.
~~Contact~~
If you're planning a party or a corporate event, I would be more than happy to put together a good show for you. Contact me by email on the link below.